Keel Toys Signature 25 cm Grey Cuddle Bunny
Keel Toys Signature 25 cm Grey Cuddle Bunny
Keel Toys
The Keel signature cuddle bunny range are super soft bunny toys with a long fibre plush finish. Embroidered detail on the feet with long ears and beans inside the base to allow the toy to sit.
Material : 100% Synthetic
Size : 25cm High Sitting, 40 cm Long Laying approx.
Suitable from 3 Years+
Made in Indonesia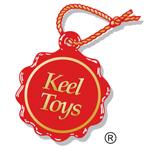 Availability:
Out Of Stock