Keel Eco Toys 100% Recycled Zebra Comforter
Keel Eco Toys 100% Recycled Zebra Comforter
Keel Toys
This cute soft velour animal comforter is full of detail, five pointed star design with one tied knot and a central head. Contrasting grey stripe plush finish on the reverse.

Keel eco is the NEW 100% recycled range from Keel Toys. These eco-friendly toys are manufactured and stuffed with 100% recycled polyester from plastic waste including the sewn in label..
Material : 100% Recycled Mixed
Size : 32 cm x 12 cm approx.
Suitable from Birth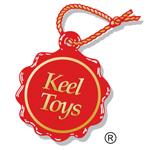 Availability:
Out Of Stock