Keel Eco Toys 100% Recycled 14cm Christmas Beanies Snowman
Keel Eco Toys 100% Recycled 14cm Christmas Beanies Snowman
Keel Toys
Part of the `Christmas Beanies` range from Keel Toys this cute soft velour Christmas toy is full of detail and has beans inside to allow it to sit.

Keel eco is the NEW 100% recycled range from Keel Toys. These eco-friendly toys are manufactured and stuffed with 100% recycled polyester from plastic waste. Weighted with recycled glass beads, these floppy toys have been perfectly designed for hugging by a loving new friend.
Material : 100% Recycled Mixed
Size : 14cm High approx.
Suitable from Birth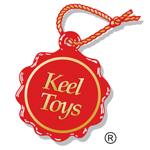 Availability:
Out Of Stock